H & B new products are on hot sale
Share
Issue Time

Mar 23,2022
Summary
H & B new products are on hot sale:HB-AP032、HB-TZ72、HB-PP13、HB-CPTB180、HB-CB050,72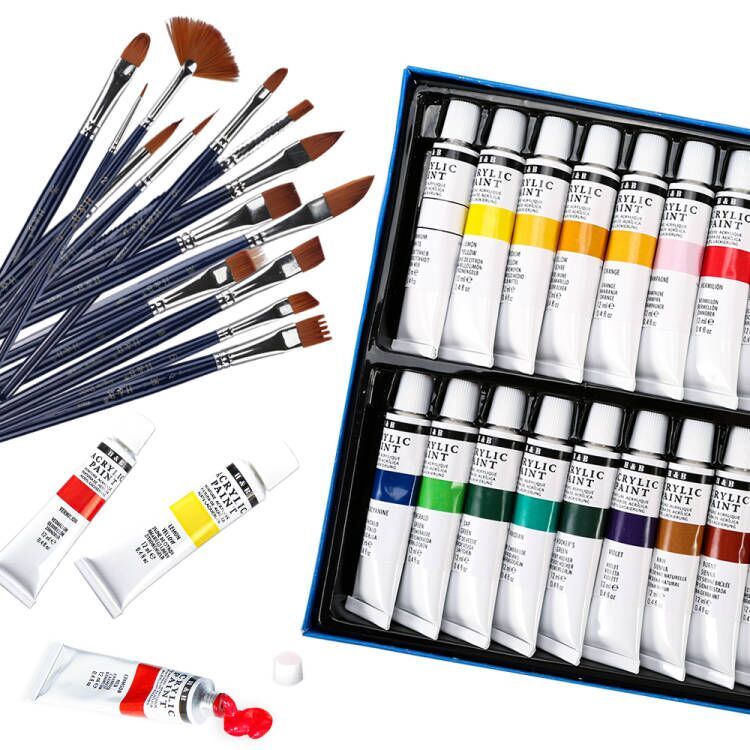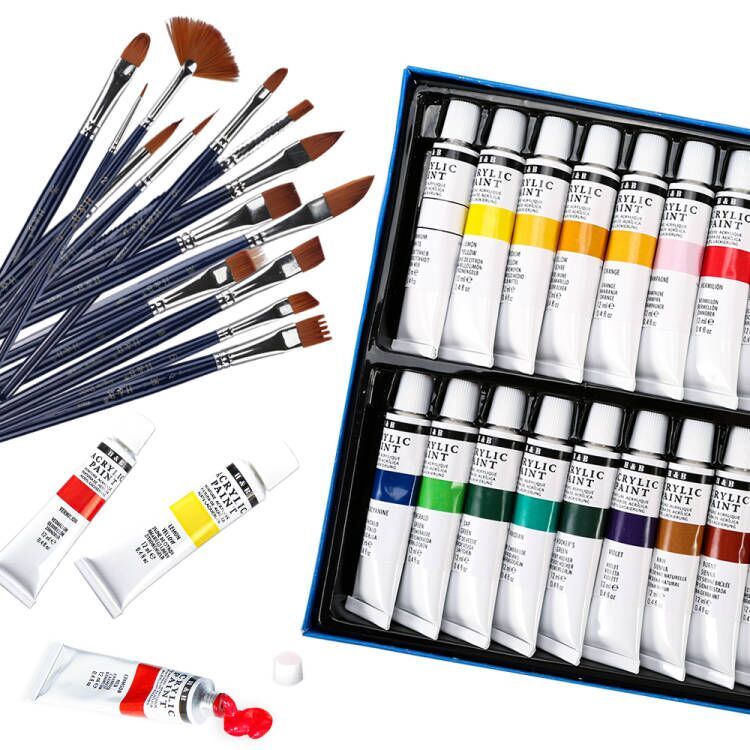 Price:$7.2
MOQ:100sets
24 colors acrylic paint set 12ml*24 for painting information:

24 colors acrylic paint set 12ml*24 for painting This product has a total of 32 accessories, and the accessories are complete for you to play and easy to DIY.

Born to be professional, you can rest assured of the professionalism of the product, whether you are a professional painter or a beginner, this product is for you. Secondly, its safety is also guaranteed, with professional test reports, you can use it healthily and with confidence.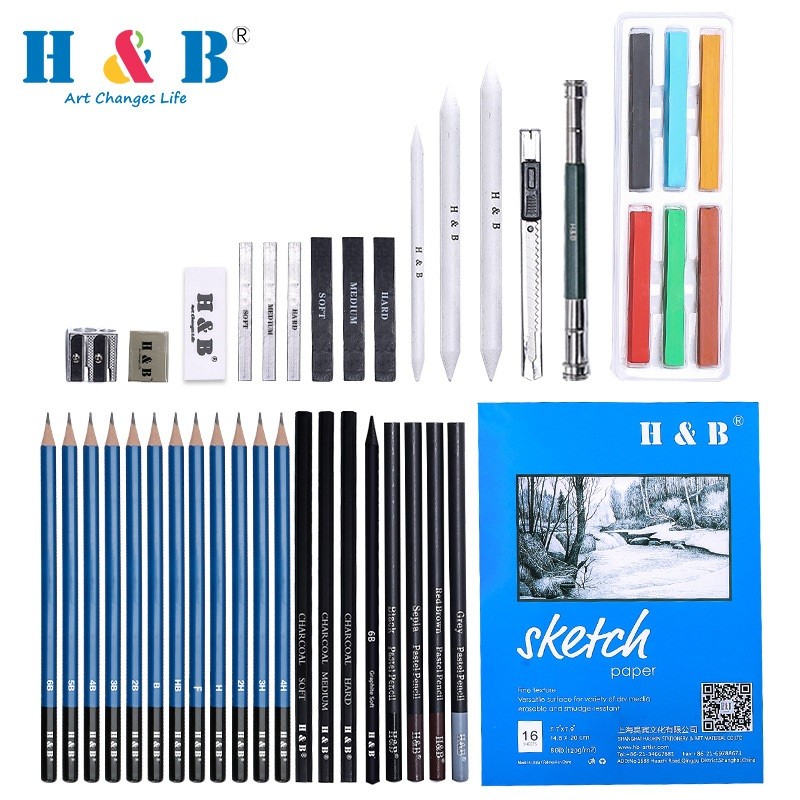 2.HB-TZ72

Price:$8.37
MOQ:100sets
Sketch Pencil Set Of 42 Pieces Painting Kit
information:
Easy to Carry】-Zipper bag, made of durable high-quality nylon, the sketch kit with zipper bag is suitable for you to carry around. This is a complete sketch pencil set, perfect for on-the-go and will do exactly what you need.
【Reassured and Convenient】-Sketch Pencil Set of 42 Pieces Painting Kit Charcoal Chalk Brushes to use with confidence. The Fracture Resistant Graphite in the pencil is a blend of finely ground graphite and clay that ensures smooth, balanced and easy application, won't fall off during use or sharpening, perfect shade! The sketchbook uses high-quality textured paper, which is acid-free and non-toxic. Great for experimenting and perfecting your ideas and techniques.
【Suitable for Beginners and Professionals】-Sketch Pencil Set of 42 Pieces Painting Kit Charcoal Chalk Brushes is a truly versatile art set for kids, teens and adults, this well organized art kit is perfect for art students and others Working craft and construction paper, subtle sketching and a high level of artistic skill. This art supply set is a great Christmas, birthday or New Years gift for anyone who loves to paint and create beautiful sketches.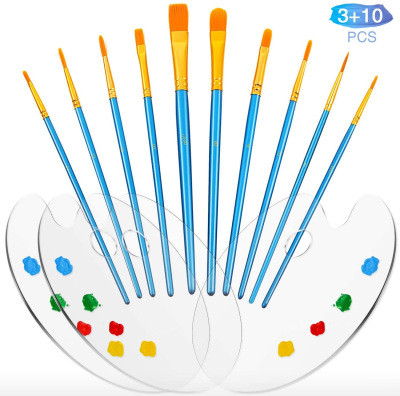 Price:$4.5
MOQ:100sets
Instructions for using Paint brush and Clear Acrylic Paint Mixing art Palette: After starting the new pen, soak the bristles in warm water for a few minutes, then gently lift the pen tip from top to bottom with your thumb and forefinger, and slowly open the bristles, there is a little hair removal phenomenon. It is floating hair, which will not affect the use effect and life of the brush. After using the brush, please keep it clean, hang it in a well-ventilated place and place it to dry to avoid soaking the brush for a long time.
Nylon Wool Paint Brush for Acrylic Painting Features: This product is made of nylon material. Nylon material is basically non-absorbent and has high elasticity. The strokes are very noticeable when using it. It is often used for quick painting, and it is also very convenient to take care of. Also, it is not only suitable for acrylic painting, but also for gouache and oil painting.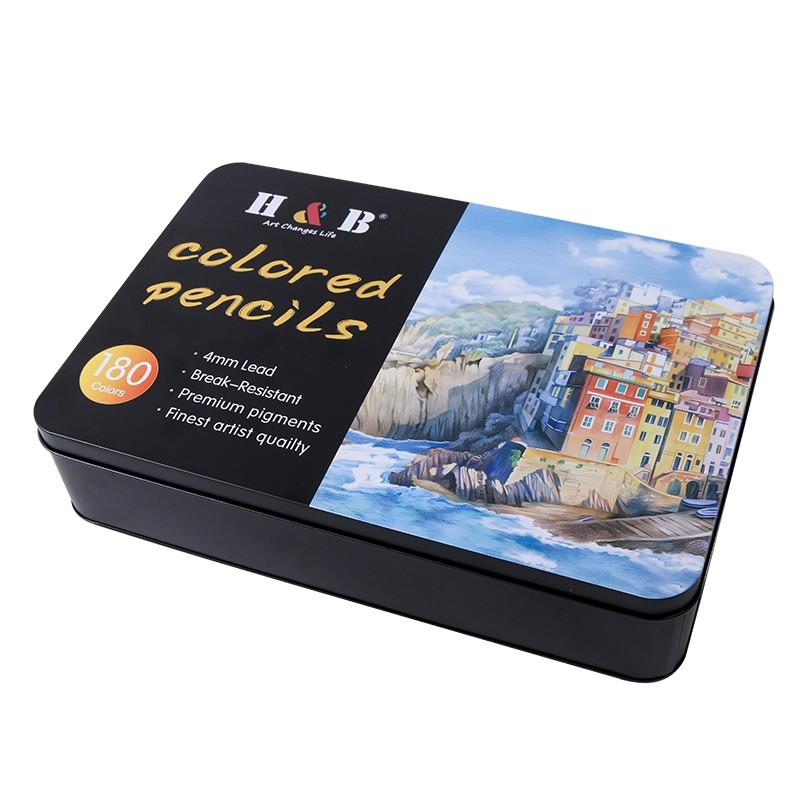 4.HB-CPTB180

Price:$18.10
MOQ:100sets
Hardcover 180-colors wood colored pencil art kit with box: 180 unique vivid colors, colorful, fast, and high-quality colored pencils for you to use. Professional and outstanding artist quality high-quality colored pencils. The pencils are effectively organized in an elegant tin box, and the packaging is in a tin box, so they can travel and use immediately.
Extremely soft, the lead core is super smooth, and the colors are evenly arranged, allowing you to easily mix, shade, shade and layer. The thicker, sturdy refill is chipping, anti-cracking, anti-breaking, and has a real meaning, making it an ideal choice for adult coloring books. The color also blends perfectly with other brands of pencils.
H&B Color Series: The top of the pen has a number and color, which can be directly matched with the color of each pre-sharpened pencil, so you can quickly identify all the colors in the main marker color series. The pencil is non-toxic.
Versatility and unlimited use: Let your imagination run wild when using these pencils, because they are perfect for drawing, illustration, coloring, crafting, sketching, design, scrapbooking, cartoons, anime, and filling in adult coloring books or anything else The content allows you to show your creativity and make stunning artworks.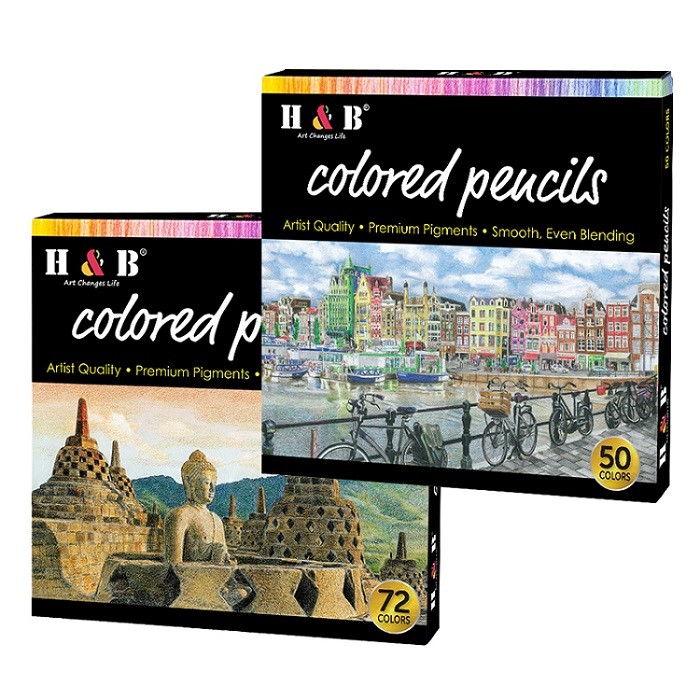 5.HB-CB050,72

Price:$5.19
MOQ:100sets
1.【Additional Premium Accessories】: Tin box packaging can store and protect your 72 colored pencils.
2.【Premium Quality】: Professional oil color pencils with 50/72 colors pack for artists are available in 50 or 72 different colors to add vibrancy to your drawing board or adult coloring book. No matter which colored pencil, it is designed and manufactured for art lovers as well as aspiring professional artists. Each colored pencil is pre-sharpened and color-coded for easy identification.
3.【Perfect Holiday Gift】: Your kids and friends will love this coloring pencil set because it's what you want them to be artists. Whether coloring their favorite Secret Garden coloring book or just drawing on a sketchpad, quality colored pencils are always a great gift for Christmas and New Years.
4.【Safe and non-toxic】: [CE certified] Made with reclaimed wood, it is environmentally friendly and non-toxic. Colored pencil tin packaging provides maximum protection and organization for your art colored pencils and accessories, allowing you to carry them freely and use them anywhere!
If you want to know more about our products or want to buy our products, please contact us. Contact information:You can enter your email address and relevant information to get in touch with us, or call 86-17316430244.